The Cheerless Attic
The Cheerless Attic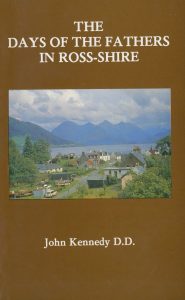 One of the books that has had a great influence on me is The Days of the Fathers in Ross-Shire by Dr. John Kennedy of Dingwall, Scotland. I first read it when our entire family (about nine of us, I think) went to Gulf Shores, Alabama, and stayed in a rented house for a few days back in 1993.
Dr. Kennedy wasn't converted until in college, sometime after (and because of) the death of his father. He was to have a very fruitful and influential ministry in the Scottish highlands during the late 1800's through his preaching and writing.
I think this is his best book because of stories like these that he includes. The Minister of Killearnan (included in Days of the Fathers) is about his father's ministry. In it, he relates visiting some old women who remembered his father:
I cannot forget a trying scene, into which a streak of light of those days [of my father's ministry] was once cast to cheer my heart.

Being called to see a dying woman, I found on reaching the place to which I was directed a dark filthy attic, in which I could observe nothing till the light I had carried in had quite departed from my eye. The first object I could discern was an old woman crouching on a stone beside a low fire, who, as I afterwards ascertained, was unable to move but "on all fours." Quite near the fire I then saw a bed, on which an older woman still was stretched, who was stone blind, and lying at the very gates of death.

The two women were sisters, and miserable indeed they seemed to be; the one with her breast and face devoured by cancer, and the other blind and dying. They were from Lochbroom; and we had spoken but little when one of them referred to the days of my father's labours in their native parish, and told of her first impression of divine things under a sermon which he preached at that time. The doctrine of that sermon was as fresh in her mind, and as cheering, as when she first heard it half a century before. Such was the humble hope of both of them, and their cheerful resignation to the will of God, that I could not but regard them, even in their dark and filthy attic, as at the very threshold of glory.

I left them with a very different feeling from that with which I first looked on them; nor could I, after leaving them, see among the happy and frivolous whom I passed on the street, any who, with all their health, cheerfulness, and comforts, I would compare in point of true happiness with the two old women in the cheerless attic.